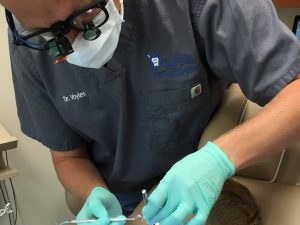 One of our new patient's named Tressa, gave us this wonderful review after being very happy with the care she received from Voyles Family Dental. The two days before she was seen, Tressa was having unbearable tooth pain. Her regular dentist was not able to do an extensive root canal surgery, so she was recommended to Voyles Family Dental by a friend.
"She was having pain with a tooth that needed a complicated root canal and her regular dentist wasn't able to see her.  So she called us and we made time to see her." (Dr. Voyles)
Tressa went into Voyles Family Dental and Dr. Voyles explained step by step what needed to happen in order to relieve her pain. The staff worked her into their schedule and stayed late to make sure she could leave pain free.
A Review for Voyles Family Dental
"I just had to write in to let Dr Voyles and his wonderful staff know what a great experience I had when I came in feeling miserable on Wednesday. I'm ever so appreciative of everyone's kindness and concern. From the front desk all the way to Dr Voyles himself, each person I encountered was so nice and calming. It's pretty unusual to have an entire chain of caregivers that were equally outstanding in their care. Thank you so much for staying to take care of me and the pain I had suffered for 2 entire days, words cannot express my gratitude.  Thank you for staying late, for being wonderful and for your excellent care. With much appreciation and praise." -Tressa D