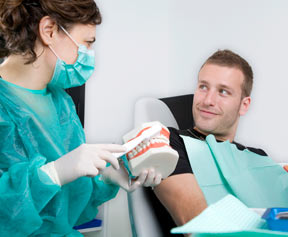 A dental cleaning is a twice-annual procedure that you should not ignore. Read on to find out why a regular dental cleaning is essential.
Top Reasons for a Dental Cleaning
Helps Prevent Cavities. The buildup of plaque is the primary cause of tooth decay. Plaque contains acidic substances that wash away the tooth enamel, which result in cavities. Proper brushing, flossing, and dental cleanings will help prevent cavities.
Averts Tooth Loss.

Gum disease is one of the major causes of tooth loss among adults, which begins with plaque buildup. Plaque goes deeper down the tooth as gum disease advances. This damages the jaw bone and results to the loosening of a tooth that will eventually fall out if untreated. Regular dental cleanings combined with healthy oral hygiene can keep this from happening.
Freshens Your Breath.

Although good oral hygiene keeps your mouth fresh and clean, a regular dental cleaning would greatly help because it will detect early signs of tooth decay, cavities, gum disease and other oral issues. Even a tiny cavity can cause bad breath.
Brightens Your Smile.

Certain foods and beverages can stain your teeth. Coffee, tea, wine and tobacco use are known to stain teeth. Remove stain build-up and have cleaner, whiter smile by having your teeth cleaned.
Boosts Your Confidence.

Having a good set of white teeth and fresh breath boosts your confidence so you smile often.
Helps Lower Risk for Diseases.

Oral health is essential in attaining overall health. A regular dental cleaning may help lower the risk for some diseases. Early signs of heart disease, stroke, and other life-threatening diseases can be detected during a routine dental checkup.
Have you been to your dentist lately? When was the last time you have your teeth cleaned? If you haven't, the reasons listed above should prompt you to visit a dentist. Call Voyles Family Dental today to schedule a cleaning.