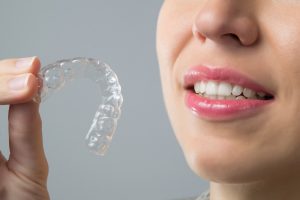 There are very few people that are blessed with a perfectly straight set of teeth. Most of us develop one or more of the following abnormalities when our adult teeth come in: misaligned teeth, protruding teeth, crowded teeth, crooked teeth, incorrect jaw positions or jaw joint disorders. If left untreated, these dental issues can result in tooth decay, biting or chewing issues, gum disease, speech problems, headaches, earaches or jaw aches.
Dentists recommend braces to most patients with these issues. Both children and adults can wear braces, but adults tend to need them on for a longer period of time. Metal braces are the most common types of braces. Modern technology, however, has introduced an innovative and inconspicuous version Invisalign.  Invisalign is a low profile, clear plastic brace that is worn like a mouth guard to straighten teeth. It is designed specifically for your teeth, and is virtually invisible to others.
Here are the Top 9 Reasons Why We Think Invisalign is Awesome
Smooth and comfortable – they will not irritate your gums and cheeks

Straightens your teeth without people knowing that you are wearing them

You can eat the kind of foods you want and enjoy

Brush and floss your teeth normally for better oral health

You can remove the Invisalign whenever you want

No metal brackets to attach and wires to tighten

Effectively treats a wide variety of dental issues, including spacing, crowding, under-bite, cross-bite and overbite

Easier to clean

Dental office visit is only every 4 – 6 weeks, making it easy on your busy schedule
Invisalign shifts your teeth into place gradually and gently based on the exact movements planned by your dentist. Call today to set up an appointment with Dr. James Voyles, and start your journey towards straighter teeth.